This BBQ Pineapple Chicken Quesadilla is perfect for when you want BBQ, but either don't have a grill or don't feel like pulling it out and cleaning it.  This can be slow cooked while you are at work, or made the night before (which is what I do!), so you only need 15 minutes for the final touches to get dinner on the table!
You can omit the quesadillas if you want to try this, but need lower carb/lower sodium version or aren't a tortilla fan.
We have had the filling in salad, on nachos,  on sandwiches, in burritos, tacos, etc.  It tastes amazing no matter what we do with it!
Nature's Candy!
If you ever hear Aaron talk about pineapples, he will tell you it is "nature's candy".  He cracked me up the first time he said it, but when i think about it, it is totally true!
Pineapples are very sweet, so it's hard not to like them.
We are one of those people who always eats pizza with pineapple on it. I know, it's a horror story if you hear some people talk about it.  But the world would be boring if we were all the same and liked the same things, right?  So I won't judge you if you don't feel the love for pineapples like we do.
Aaron tends to want them in EVERYTHING.  He has came up with a whole list of things he wants to make with them.  Since he is nice enough to always cut the pineapples for me, I am happy to make everything I can with them.
So stay tuned, because I am sure we will have a bunch of recipes featuring pineapples in the future!
Health Benefits!
"Nature's Candy" has some great health benefits, which is why we wanted to add them to this recipe (other than adding some sweetness).
Did you know that in Central and South America, they use pineapples to treat digestion problems and inflammation?  (Source: Medical News Today) I thought that was really neat.
Pineapples are loaded with antioxidants, which prevents free radicals occurring in your body.
Free radicals are formed in your body from smoke, toxins, sun damage, pesticides, along with pretty much everything else that isn't supposed to be in your body.  Free radicals damage cells, which can lead to nearly every kind of illness and ailment you can think of.   Cells make up our entire body and controls everything, so when cells get damaged, ailments like heart disease, cancer, arthritis, along with many other ailments happen.
Eating foods high with antioxidants help to prevent this from happening.
Pineapples are also the only known source for Bromelain.  This is an enzyme used to treat swelling and inflammation in the body.  This is so powerful, they have made supplements out of it!
So next time someone wants to make fun of you for liking pineapple on everything, tell them you are taking your medicine.
Vitamins and Minerals
I am very big on knowing how much vitamins and minerals I am putting in my body, so like to share that with you.  Because how do you know if you are getting enough of something unless you know what you are eating?
I am happy to announce this recipe has small amounts of every single major vitamin and mineral in it, using the ingredients that I used.  It's not very often you find that.
Based on a 2,000 calorie diet, this is what this recipe has the most of:
34% Vitamin C
29% Niacin (Vitamin B3)
28% Selenium
27% Vitamin B6
25% Phosphorus
22% Manganese
21% Calcium
16% Iron
12% Potassium
12% Riboflavin (Vitamin B2)
So what does this mean?
It means the nutrients this recipe is filled with have been linked to better growth and development, red blood cell health, nervous system function, better metabolism function, better immune function, wound healing, and bone health.
There is so much more these nutrients can help with.  If you want to learn more about what each Vitamin and Mineral does, subscribe to my email list to receive a free cheat sheet on the top functions of each major vitamin and mineral!
Tips and Tricks
When I make this recipe, I will typically make it in the slow cooker the day before and refrigerate it overnight.  I do it this way because it thickens the sauce, which makes it easier to put on the quesadilla the next day without a giant mess.
You can do the slow cooker portion the day of if you prefer.  It doesn't affect the taste at all, just the ease of working with it.
Also, when this is cooking in the oven, the cheese and BBQ sauce may make a mess on your pan.  I highly recommend to put all your toppings in the middle or use parchment paper or spray the pan, even if you use non-stick pans, when you cook this to make cleanup afterwords easier. Just don't use olive oil because it will burn your pans at this high heat!
Don't worry if you do find some of the cheese leaked out.  When you use a spatula to get it off the pan, the quesadilla will be fully formed without anything spilling out of it.  As you can see from my pictures, the quesadilla came up with no mess.
Tools I Used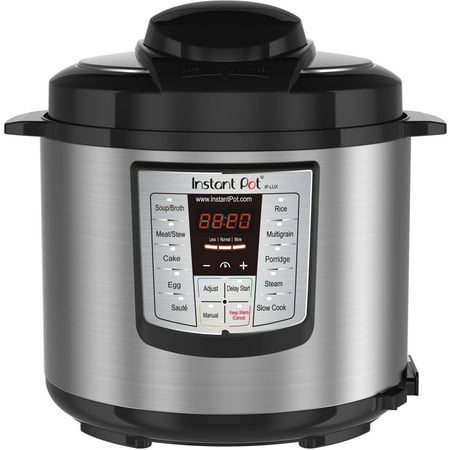 Other Chicken Recipes You May Enjoy
Print
BBQ Pineapple Chicken Quesadilla
---
Author:

Prep Time:

10 minutes

Cook Time:

7 hours 15 minutes

Total Time:

7 hours 25 minutes

Yield:

4

1

x
Description
This BBQ Pineapple Chicken Quesadilla is sweet, yummy, and takes minimal effort to make!  You can slow cook it the day of or day before, then spend 15 minutes preparing after for a quick dinner that the whole family will love.
---
---
Instructions
Place chicken, diced pineapple, garlic, seasonings, and BBQ sauce in Instant Pot.
Set on Normal heat setting and make sure it is set on top to vented.
Select slow cook and adjust timer to 7 hours
Once completed, preheat oven to 420 degrees
Shred chicken ( I usually dump everything in a bowl, take the chicken out, shred, and mix back in)
Grease pan by either using spray or avocado oil.  You can lay parchment paper down if you prefer.
Place two tortillas side by side on pan.
Layer BBQ mixture in middle of each tortilla (about a spatula full)
Sprinkle the top of each with cheese
Place another tortilla on top
Using another pan, place it on top of the tortillas and press down.  (Do not do this upside down, you need the other pan touching the top of the tortilla and pressing down on it)
Put in the oven for about 14 minutes.
Take out and repeat until all quesadillas cooked
Using a pizza cutter, slice each quesadilla however small you want each slice.
Notes
You will need to either wipe down the pan in between each use, or change the parchment paper each time.  If you have a quesadilla maker, you can make it in there too.
I prefer to do the slow cooker part the day before and refrigerate overnight.  This is to make the mixture thicker.  You do not have to do it that way, but I found it much easier!
Category:

Dinner

Method:

Slow Cook and Oven

Cuisine:

American
Nutrition
Serving Size:

1 quesadilla

Calories:

490

Sugar:

15g

Sodium:

1322mg

Fat:

15g

Saturated Fat:

2g

Unsaturated Fat:

2g

Trans Fat:

0

Carbohydrates:

64g

Fiber:

5g

Protein:

24g

Cholesterol:

46g
Keywords: bbq, chicken, quesadilla, how to make oven quesadilla, pineapple recipes, pineapple chicken recipes, slow cook recipes, anti-inflammatory recipe, dinner ideas, chicken dinner ideas, pineapple chicken, bbq pineapple chicken